<![CDATA[Samsungpay upi offers. HI guys i hope you all looting the offers of us. Samsung pay offer:-Today here is the loot for only samsung user. This offer is similar to the Tez app get ₹51 on signup and get ₹51 per referal in bank. But this offer is only for samsung users. This offer consists of Get ₹151 Cashback in your bank for making a transaction of minimum of ₹100 So hurry up and loot it. Samsung Pay is a mobile payment service that works almost anywhere you can swipe or tap your card. From local grocery stores to corner coffee shops to taco trucks, it's highly secure and simple to use with the latest Samsung Galaxy devices.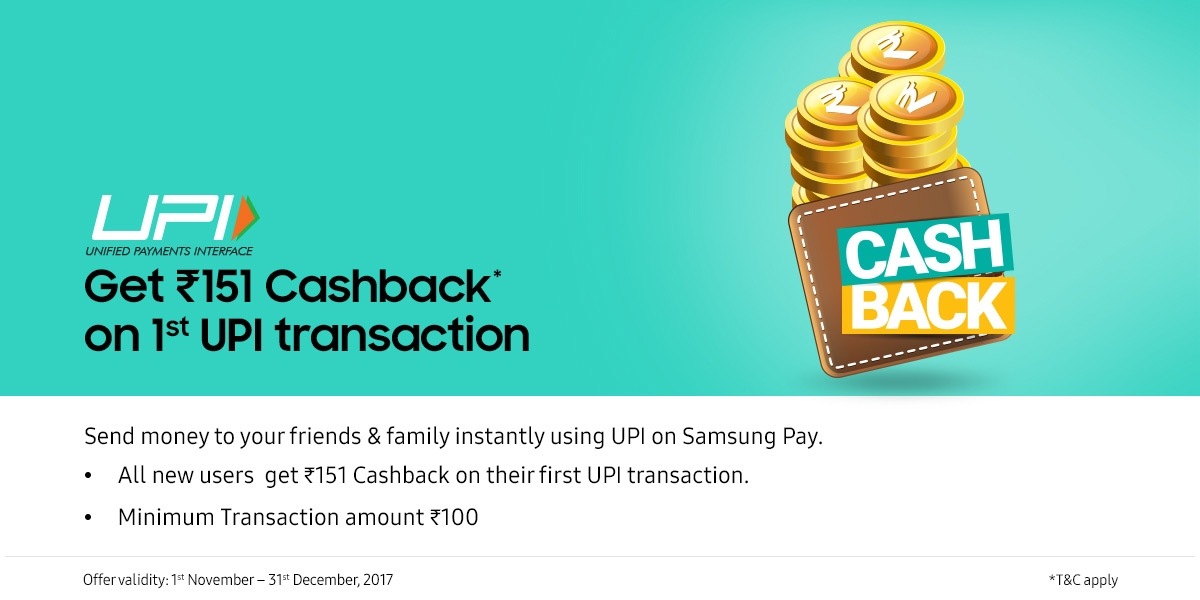 Offer validity from 1st november to 31st December 2017.
Well we have this offer before 20 days but for verification to get cashback we have'nt posted it.We have gotd the cashback now.
How to Get ₹151 Cashback on First UPI Transactions of ₹100:-
1|
Firstly download the
samsung pay
| Click on the Google play logo down
2| 
Now open the installed app in your Samsung mobile.
3|
Sign up for a new account.
4|
The number you registered should be linked to bank account
5| 
Now add your bank account to the Samsung pay.
6
| Make your 1st UPI Transaction of ₹100 or more to any upi id or bank
7|
 That's it done!!
8|
You will get the ₹151 Cashback within a month from the date of the debit transaction made by the user. We have got within 18days.Hope you will also get them earlier.
Note:- Samsung Pay is currently available on the Galaxy Note8, Galaxy S8+, Galaxy S8, Galaxy S7 edge, Galaxy S7, S6 edge+, Galaxy Note 5, Galaxy A7 (2017), Galaxy A5 (2017), A5 (2016), A7 (2016), Galaxy A9 Pro and Galaxy J7 Pro.
ALSO VISIT Similar offer :-
Get ₹51 on signup + Get ₹51 per refer Tez app 

– CLICK HERE

( PROOF ADDED) 

Biggest  loot Sphere- Get ₹300 on signup + ₹300  refferal upto $251 (cryptocurrency)

 – CLICK HERE
---
Terms & Conditions of the Samsung pay offer:-
 The Offer is valid for all Samsung Pay users who make a debit transaction on Samsung Pay/Samsung Pay mini Apps using UPI via send transaction or Pay via scan and pay. The user base includes Axis and Non-Axis account customers who would be in the eligible base.
 The user should have done the debit transaction from his VPA linked to Samsung Pay within 1st November 2017 till 31st December 2017. Any transaction done before and after the campaign date wouldn't be eligible.
 This offer is non-transferrable to any other person and cannot be exchange with any other offer.
 The Eligible User would be coming across the offer at, Facebook, Twitter etc.
The Rs 151 Credit would be given to the users within a month from the date of the debit transaction made by the user into the account from which the first ever debit transaction was carried out.
 In all matters relating to the offer and these terms & conditions, the decision taken by Axis Bank will be the final decision, which will be binding on the User.
 This offer cannot be clubbed with any other offer. If the same transaction made by the customer is applicable for two different offers, only the higher of the cashbacks will be credited to the customer.
 The Terms and Conditions of the Campaign/Offer shall be in addition to and not in substitution/ derogation to the primary terms and conditions governing the usage of the services offered by Axis Bank and Samsung Pay.
 Any Customer participating in this Campaign/Offer shall be deemed to have read, understood and accepted these Terms & conditions.
 The participation in the offer is entirely voluntary and it is understood, that the participation by the User shall be deemed to have been made on a voluntary basis.
The Users can get a maximum cashback amount of Rs 151 within the Offer Period per Registered Mobile Number per user. Axis Bank will not be responsible or liable in case the offer is not configured or could not be availed due to malfunction, delay, traffic congestion on any telephone network or line, computer on-line system, servers or providers, mobile handset, computer equipment, software, or website. User cannot claim any loss, cost or damages from Axis Bank which may arise due to these technical reasons.
 Incomplete / rejected / invalid / returned /disputed or unauthorized/fraudulent transactions and VPA will not be considered for the offer.
These Terms and Conditions shall be governed by the laws of India. The courts at Mumbai shall have the exclusive jurisdiction in respect of any disputes with respect to all the subject matter with relation to the offer.
Also See
–
Tez App loot
Paytm UPI Rs 350 Cashback offer
Get Rs 100 Discount on BMS Vouchers- Amazon
paytm freshiD offer
Paytm Upi Offer
Subscribe to our WhatsApp Broadcast here!
tags- Samsungpay upi offers,]]>